g's journal
7.7.10
earth oven
if you've ever wanted a wood fired pizza oven or
masonry bbq pit but didn't want to spend thousands of dollars,
you can build one yourself for little to no cost
eric tends the oven fire
Among the many alternative building methods I've wanted to try out, cob construction has long been high on the list. It is actually an ancient technology that has been largely forgotten except on the fringes. My 'neighbor' (about a mile away) Patricia is building an earth oven outside her home, and I've been able to help out with planning and construction.
There are many different types and styles, depending on what you want the oven to do and what you want it to look like. Most are built outside, but they can also be placed indoors provided a flue is included. Indoor ovens have the advantage of providing radiant heat to the living space for hours; the downside is the same (you wouldn't want to use it in the heat of summer).
Earth ovens are constructed of masonry (brick, block, stone or concrete) and cob (clay, sand and straw). They are very massive as the idea is to build a fire inside the dome to heat the dense materials, then remove the ash and let the oven radiate an even heat back to the interior for an ideal way to cook bread, pizza, meat, or anything else you would make in a conventional oven.
These ovens also provide a focal point and gathering place in a garden, forest clearing, or patio, so their beauty and functionality make them well worth the time and effort that go into them. And really, the construction itself is a fun process that can bring people together, so why not start one now?!
foundation
we placed a 5" reinforced concrete
slab on a 6" pea gravel bed
building the base of concrete and cob
colin, christy and robin mixing cob
local clay, sand, straw & water
life's good in the real world
chiseling obtrusive corners off recycled concrete. oven base
constructed of urbanite (concrete rubble) masonry is held
together with cob. this will be topped with a finish plaster coat.
more photos of the oven to come as we progress.
For detailed instructions on how to build your own
earth oven, this book is the place to start
__________
garden pics
cabin container garden :: tomatoes, peppers, herbs, flowers
veggie garden — asparagus to zucchini
yellow squash
pollinator
drying garlic
carpenter ants crafted a planter in this ash stump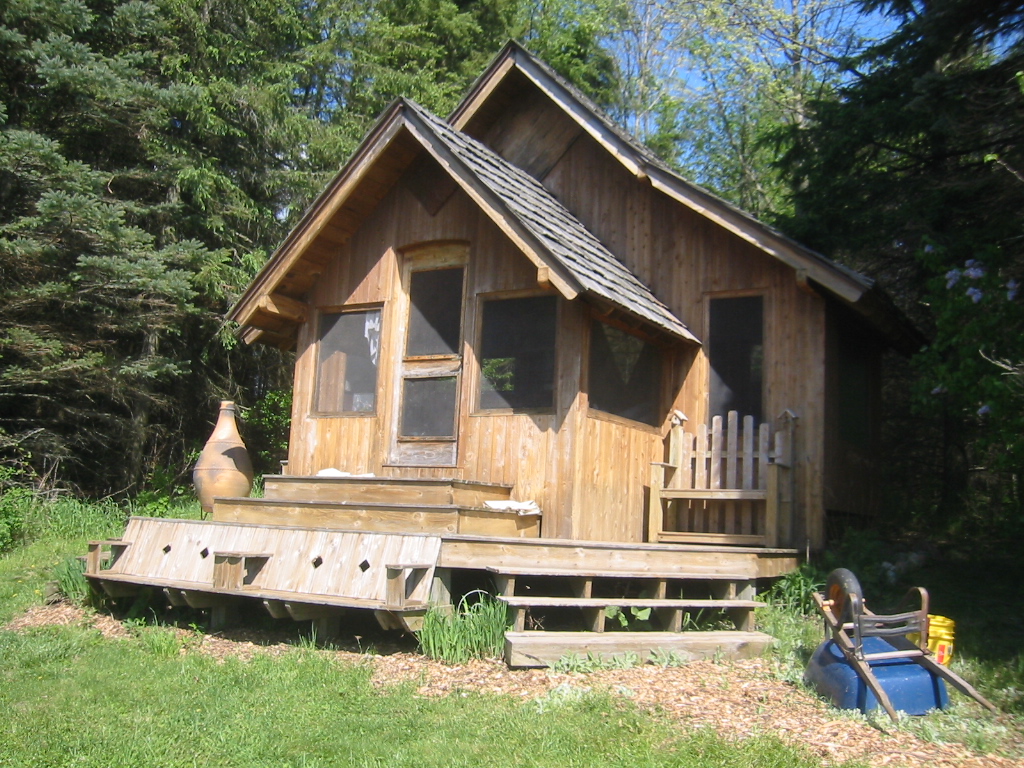 cabin before
cabin after