c r a f t ~ c o m m u n i t y ~ c o n s c i e n c e
A Plan to Make Evanston a Leader in Socially Responsible
Business and Environmental Sustainability
The evanston artisan cooperative presents a unique business model that combines ethical business practice and artistic expression with respect for the worker, the community and the environment. Its aim is to create a democratic commercial enterprise that educates and empowers people to bring about more equality, conservation, and positive change.
evarts will help offset the effects of mismanaged globalization by providing quality jobs to our workers; real opportunity for advancement, personal and professional growth; and a more equitable pay structure. We will also run a profitable business that benefits the community, and we will share our model with other towns and cities to increase the impact of our programs. Our ultimate goal is to bring back more independent business and quality jobs throughout the country.
evarts will provide a collaborative studio, vital resources, diverse points of view, and a commercial outlet for local artisans to create works that inspire people, bringing them back to nature and a more spiritual life. Building on the sturdy foundation Evanston already has, we will work to advance our social objectives to help more residents benefit from our prosperity. We will create a civic model for other city planners and business owners to emulate.
From startup through expansion, evarts will employ the spirit, energy and hope of the area's young adults and children, making them an integral part of the process. Internships, field trips, workshops, and full time jobs will be made available through this unique enterprise. We hope to inspire new ideas, alternative perspectives, and provide promising career paths for them, as they bring their original, creative thoughts to us.
History shows that one person can make a difference; many united in cause can bring about positive revolution.
Let's get to work!
art coop, art co-op, art cooperative, artisan coop, artisan co-op, artisan cooperative
Make no small plans.
They have no magic to stir men's blood and probably themselves will not be realized. Make big plans; aim high in hope and work, remembering that a noble, logical diagram once recorded will never die, but long after we are gone will be a living thing, asserting itself with ever-growing insistency.
- Daniel Burnham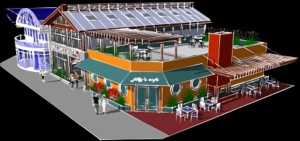 rebuilding on the ruins of hyper-capitalism